We Offer Specialized Cable Railing Systems.
Welcome to Muzata, we offer three different systems to meet your needs. Each system is of high-quality and tailored to specific needs. We're available to answer any questions and help you choose the right system.
Installation videos
tutorial videos
Build a railing system
BlackCool Cable Railing System
BlackCool System is designed for a cool modern look. The whole system is based on stainless steel or aluminum materials. Everything is custom made with a black appearance to create a cool and peaceful vibe.
More Installation Videos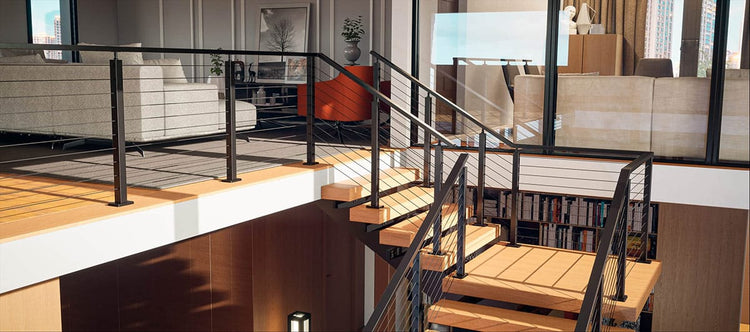 Horizontal installation - deck railing
This video will show you how to make a horizontal installation with Muzata cable railing kit CR26. Horizontal cable railings are widely applied for deck, porch, and balcony.
More tutorial videos

How to build the cable railing project?
This video will show you how easy to build a cable railing project and save a bunch of money.
More videos

Looking For A Little Inspiration?
See what other DIYers have created using the Muzata Railing System!
Real Reviews From Customers
Read authentic feedback from real customers and leave your own review if you've used our products or services. We value honesty as it allows us to enhance our offerings and provide better customer service.
Fell in love with the look of these types of fencing. Researched and Muzata kept coming up. Reached out. They designed the entire system based on my drawing and info. Looks beautiful. Will use again. Communication wit Muzata top notch. Thank you.
absolutely 100% product was super easy to work with had an item get shorted Muzata responded right a way and sent out the missing items thankyou
Good looking system. Easy to install once you get the hang of it. Once the holes were drilled the hardware went in no problem. Received nothing but compliments. Also much more affordable than other systems I priced out
Easy to use and a great cable railing for a deck on a lake! Took down balusters and replaced with cable railing. Now a great view and a great look!
I liked the product and also the professionalism, because it was my first time and I ordered some different things and they contacted me to rectify and send me the correct one,👍👍
They will stay with you till you get what you need always answered every call or email the time difference makes it difficult but that is not there fault
Excellent product it was a good project,I will be sending you the details thanks
This company is a treat to deal with. The components are top shelf, everything goes together flawlessly and their customer service is outstanding! Would deal with them anytime…..
Time is money and this saved both! Great look! Easy install! We made a story board, drilled all the post and a 192 crimps later we had what we wanted. Well worth the investment!
Show Off Your Project
Attention all Muzata fans! Join our community and showcase your creativity by sharing photos/videos of your Muzata cable railing products with us. Whether you have it on your deck, balcony, staircase, or anywhere else, we want to see how you've styled it in your space. Share your cable deck railing designs, cable deck railing kit, cable railing for decks, Muzata cable railing hardware, and Muzata cable railing installation with us and be part of our community.
About Muzata
As a leading home improvement brand,MUZATA has been developing products for cable railing systems.
We offer a one-stop solution for home improvement, including a complete set of railing system products such as handrails, posts, cable railings, accessories, etc, for railing systems.
There is also a mature supply chain, advanced research and development techniques, multiple patented technologies and customized design services. By leveraging technology and innovation, we continuously refine our products, striving to make home renovation easier and better.
View More
Why Choose Us ?




➢ At Muzata, we are more than just a manufacturer; we also have a professional design team that can tailor the perfect design for your home according to your specifications and needs. We provide a detailed shopping list or even create a series of product orders directly for you.

➢ Compared to traditional balustrades, cable railing systems are more aesthetically pleasing, simpler, and lighter, with minimal shading to ensure a more open view.

➢ High quality with the advantage of cost effectiveness.

➢ Easy to install, keeps you and your family safe.
Pros Of Cable Railing.
Easy Installation
Muzata cable railing are easy to install and only need minimal tools. If you are a skilled homeowner, cable railing for decks by Muzata Railing can be the perfect pick for you.
Increased Home Value
We offer quality railing posts and cable railings that can withstand the test of time for decades. Having cable railings also accounts for a great view at your place.
Maintenance
Our aluminum cable railings are known for withstanding even the harshest of weather patterns. The material requires little to no maintenance and is highly resistive to corossion.
Aesthetically Pleasing
What makes our cable railings stand out is that they easily blend in, courtesy of the tools available at Muzata Railing that make the cable railing perfect for both conventional and modern homes.