Collection:
Stainless Steel Handrails
11 products
Stainless Steel Handrail
Why Settle for Low-Grade Stainless Steel Handrail When We Offer the Customized Handrail for You?
At Muzata Railing, we pride ourselves on creating beautiful stainless steel handrails that are built to last. If you're looking for stainless steel handrails, then put an end to your search.
A stainless steel railing will not decay and is corrosion-resistant, making it ideal for use as a handrail because it requires no maintenance and can withstand harsh climatic conditions. Stainless steel assures that your handrails will keep you safe from falls and accidents at home or work for many years.
Why Add Stainless Steel Handrails?
Handrails are typical components that bring safety and versatility to any property. They have many advantages, including preventing slips on damp flooring. These handrails can also complement your environment because they come in a variety of styles, including elegant stainless steel railings, brass finishes, wood grain designs, and more! We make certain that our customers receive only high-quality products, as well as all essential fitting accessories and installation services!
Our Modern Stair Railings

Muzata stainless steel wall mount stair handrail, Brushed Handrail Floor Mount, or Muzata Brushed Stainless Steel Round Handrail is exactly what you need to add to your staircase or deck.
The handrail you choose for your wall railing installation, such as stainless steel handrail, modern railing, and modern stair railing, is quite crucial. Practicality is important, but it does not have to take precedence over beauty. Our variety of styles and versions ensures that you will discover the right railing for your project. They're highly modular and may be coupled in a variety of ways to give you even more options.
We ensure that products are designed as per your requirement. Offering customer-centric handrails has been our forte for years. We are renowned for offering top-notch services to our clients. Now, you do not need to hop from one store to another to find the best handrails for your home. All you need to do is scroll down to your options and get a high-quality stainless steel handrail from the comfort of your house.
Hurry, add to the cart the one that suits your requirement. Do not miss the chance to get your hands on durable, elegantly designed, customized, and corrosion-resistant handrails at unparalleled prices.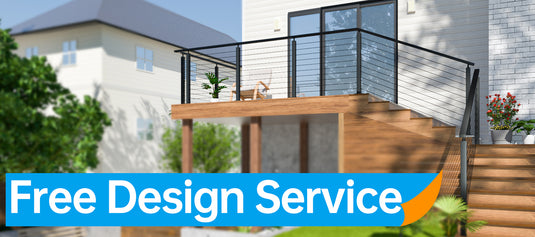 Free Design Saves Time & Money
At Muzata, we are more than just a manufacturer; Our professional design team provides personalized solutions for product selection, railing design, and budget estimation, tailoring the perfect home design to your specifications and needs.
REQUEST FREE ESTIMATE
Use left/right arrows to navigate the slideshow or swipe left/right if using a mobile device