Collection:
Terminals for wood posts
47 products
Cable Railing Kits for Wood Post
Our Wood Post Railing System collection makes the best choice for interior and exterior residential wood post deck railing, stairways, and fences. The simplicity of the Muzata Railing patented tensioning system creates these cable railing kits for wood posts, the go-to option for professional installers and DIY homeowners alike. T316 stainless steel offers a non-corrosive feature to the core components.
If you are looking for cable and wire railing without all the complexity, we have got the best solutions for you. Our sleek and minimal profile features a concealed tensioner. You don't have to worry about turnbuckles or universal ends. Moreover, it is easy to install.
High-Quality Kits for Wood Posts
Wood post is great for a rustic aesthetic that nicely contrasts with the industrial feel of cable infill. Cable Railing Kits are the most popular and cost-effective solution for wood railing frames and comprise everything needed to attach and tension a cable. They are created for frames where there is access to drill through both end posts enabling the fittings to anchor to the outer faces of the posts. So, the best way to conceal your fittings is by choosing -- Muzata Railing's cable railing kits for wood posts.
Hassle-Free Installation with Muzata Cable Railing Kits
Start by attaching your wood posts to the right space before installing a cable railing. As needed, install intermediate posts, then drill holes in each one. Run the cable line from the end posts to the terminal end post, passing through the intermediate posts. After the cable lines are fixed in the posts, tension the cable. To expedite the process, use our cable railing kits for wood posts.
Our Cable Railing Kits can Ease Your Installation Task
Keep in mind all cable deck railing designs and systems are unique; therefore, minor variations in the installation procedures and frame designs are indispensable depending on your specific conditions. Our wide array of kits and free design services can keep you covered. Explore your options without further ado.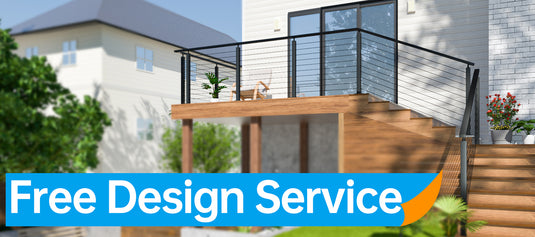 Free Design Saves Time & Money
At Muzata, we are more than just a manufacturer; Our professional design team provides personalized solutions for product selection, railing design, and budget estimation, tailoring the perfect home design to your specifications and needs.
REQUEST FREE ESTIMATE
Use left/right arrows to navigate the slideshow or swipe left/right if using a mobile device