Collection:
Fittings
69 products
Buy High-Quality Cable Railing Fittings and Kits
Stainless steel material is the go-to choice of buyers for modern stair railings. Its features are completely code-compliant, high resistance to a gamut of elements, and safe. Without a doubt, choosing components and hardware from stainless steel for your indoor cable stair railing is a highly efficient way to ensure its longevity.
We offer the best cable railing kits; designed-to-use with either wood or metal posts. Our kits come with essential hardware and components -- which are easy to install. You can brush your DIY skills with our guide.
Stainless Steel Cable Railing Kits that Lasts a Lifetime
Our stainless steel cable railing kits, including indoor cable railing kits and indoor cable stair railing kits, that accompany our cable railing systems are made from T316 Stainless steel. We ensure to offer best-in-class products. Thus, we rely on high-quality metal as it is the best rust-proof option for indoor and outdoor use. Our kits are designed to last in both indoor and outdoor settings. Once installed, you are required to tension the lines of wire occasionally to keep them in top-notch condition.
Each component of the kit from the protective sleeve to the lag screw is made with Marine-grade T316 stainless steel to withstand the exterior elements. The material makes a world of difference in ensuring that there are no traces of rust or corrosion at critical points in the railing system. Our fittings are the ideal solution for pre-designed systems built on the coast or in places with extreme weather conditions.
Add Our Indoor Cable Railing Kit to Your Cart
Indoor cable stair railing kits from Muzata Railing allow you to add cable railing onto your pre-existing posts hassle-free. So, now you don't have to your deck or indoor staircase. We offer both railing kits for wood posts and railing kits for metal posts as per your requirement. If you are using your posts, you may need to drill holes in the posts.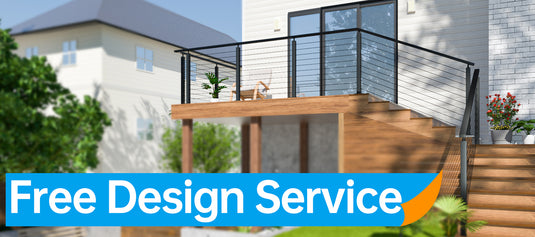 Free Design Saves Time & Money
At Muzata, we are more than just a manufacturer; Our professional design team provides personalized solutions for product selection, railing design, and budget estimation, tailoring the perfect home design to your specifications and needs.
REQUEST FREE ESTIMATE
Use left/right arrows to navigate the slideshow or swipe left/right if using a mobile device