Collection:
Swageless
12 products
Swageless
Fittings by
Muzata
Railing
Railing systems are more complex than people think. Finding the correct fittings might become a tough task, but not with Muzata Railing.
As everyone might know, Swageless fittings do not need any sort of crimping or swaging. Modern technology comes with a one-way locking mechanism, which helps in securing the cable railing system by simply allowing the cables to only enter from a single direction. Furthermore, it grabs the cable when it is pulled from the opposite direction.
Swageless Selection
At Muzata Railing, one can choose from different types of Swageless fittings, including the likes of:
Thread Terminals
Such terminals come with two grub screws in the side that get tightened onto the wire, making them pretty simple to use.
Standard Terminals
These come in handy for several applications and are pretty popular.
Cable Grippers
These are used for light fittings, pipes, artwork, and other applications. Pretty easy to release and easy to adjust in terms of cable length.
With the use of Swageless fittings from Muzata Railing, you do not need any sort of special equipment for installation. Experts from Muzata Railing ensure that the fittings are larger than the diameter of the cable. The general diameter for Swageless fittings offered by Muzata Railing is 1/8" and 3/16".
Perks of Swageless
Swageless cable railing fittings from Muzata Railing can be installed simultaneously with the installation of cable railing frames. As opposed to the use of swage fittings, one doesn't have to wait till they get the precise measurements.
Swageless makes DIY projects simpler since there is no need for additional equipment of any kind.
Even though it is quite evident that Swageless fittings are expensive in comparison to swaged fittings, Muzata Railing offers these fittings at reasonable rates. In case you are indulging in a small-scale project, making use of Swageless fittings can save you a lot of effort and money in terms of the expenses for purchasing or renting appropriate equipment.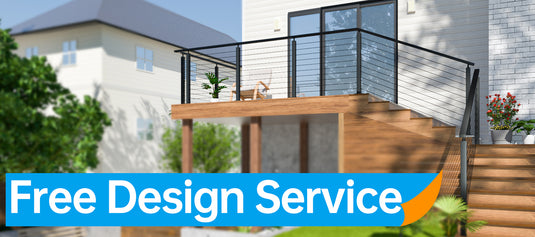 Free Design Saves Time & Money
At Muzata, we are more than just a manufacturer; Our professional design team provides personalized solutions for product selection, railing design, and budget estimation, tailoring the perfect home design to your specifications and needs.
REQUEST FREE ESTIMATE
Use left/right arrows to navigate the slideshow or swipe left/right if using a mobile device