Collection:
Tools
21 products
Cable Rail Crimping Tools
Our custom-designed Hydraulic crimping tool is made with high-quality steel materials for super durability, strength, and long-lasting performance. With our upgraded hydraulic crimper tool + cable cutter CT01, it is easier than ever to bid adieu to frayed cable ends and unwanted pieces. So, switch to our cable rail crimping tool and save your project time. Our hand-held pair of cable cutters are suitable for most installations or upgrade to a bench-mount option for large commercial projects, or repeat installations over multiple projects.
Benefits of Choosing Stainless Steel Cable Crimping Tool from Muzata Railing
Here is a quick rundown of why you should get your first or next crimping tool with us.
Best Prices
We ensure to offer our customers the best price in the market in comparison to our competitors. We have a product for every pocket size.
Design
Our products are designed to offer comfort to our customers when using our products. The comfortable ergonomic cushioned handle of our cable rail crimping tools makes it easy to grip and control.
Reliable
We have secured our name as the best cable railing kits and tools manufacturer in the industry. You can count on us in terms of quality products.
Easy to Use
The crimper is built with a pressure release system to let you know when the swagging process is finished.
Variety
From heavy-duty cable tools to custom hydraulic crimper tools, we offer a gamut of cable crimper tools that will keep you covered at economical prices.
High-Quality Stainless Steel Cable Crimping Tool

For more than 3-decade, we have served our customers with high-quality products, including cable rail crimping tool and stainless steel cable crimping tool, and their positive feedback speaks volumes about our services.
Cable Rail Crimping Tools Upgraded to Suit Your Needs
For us, our customers come first, and this is the core reason that we offer customized services to keep their content. So, get your hands on the best crimper and cable tools at budget-friendly prices.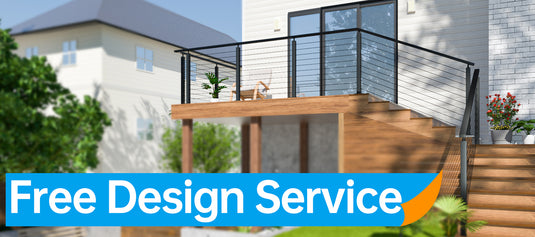 Free Design Saves Time & Money
At Muzata, we are more than just a manufacturer; Our professional design team provides personalized solutions for product selection, railing design, and budget estimation, tailoring the perfect home design to your specifications and needs.
REQUEST FREE ESTIMATE
Use left/right arrows to navigate the slideshow or swipe left/right if using a mobile device