Collection:
Handrails
24 products
Handrail Brackets to Elevate Your Home's Style
Are you scrolling home-style decor videos to spruce up the look of your house? We have got for you the simplest way to revamp the look of your house without disturbing your budget. Our variety of hand railings for stairs, including handrail, handrail brackets, handrailings for stairs, handrails for outdoor steps, and deck handrail, keeps your home decor and safety needs covered.

Make Your Handrailings More Sturdy
Add style and safety to your staircase area with our high-quality stainless steel cable railing kits that come with different types of end caps. So, add to the cart your desirable one and complete the look of your house with a click.
What Makes Our Handrails for Outdoor Steps a Great Addition?
Using handrails for steps in your home is a super-trendy option. So, it makes a go-to choice for customers. Moreover, these are a perfect option in urban, industrial, and carefree styles.
If you think these criteria don't fit your list, then understand that appearance is not all that makes it the favorite option; it is a tremendously durable material that offers a refined and cosmopolitan touch to the environment.
Stairs with railings add a contemporary touch to any space. Furthermore, if you have small children, these are great because they give security while beautifying the area. These are light and unobtrusive, yet they provide breadth to the room. So, grab the best handrailings for stairs.
Get Wall Mounted Handrail Kits
Use our high-quality brackets with flat wall connectors and wall-mounted handrails. You'll find a variety of options in our e-store and catalog, with differences in:
Stainless steel 316 (for external use) (for exterior use)
Form: angular or round
Rosette or no rosette wall connection
Connection to the handrail:
For handrails that are flat, square, or round
With an adjustable saddle (for stairwells) or a fixed saddle (for flat surfaces) (for horizontal applications)
Screws or welding will be used to secure the item.
Choose Muzata Railing for Added Benefits
Our stainless steel handrails and stair railings have all of the benefits of stainless steel and glass: they're strong, durable, and attractive, and they're excellent for both indoor and outdoor locations.
If you use alternative materials for stair handrails, you may need to maintain them regularly, which costs a lot of money. You may also need to replace them after some time, which costs a lot of money. So, make a prudent choice and explore our products for cost-effective solutions.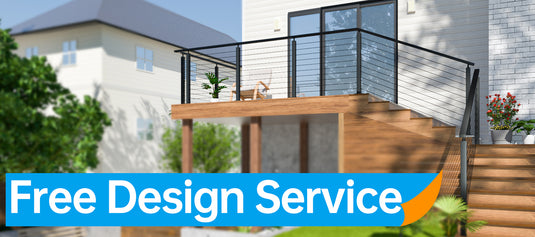 Free Design Saves Time & Money
At Muzata, we are more than just a manufacturer; Our professional design team provides personalized solutions for product selection, railing design, and budget estimation, tailoring the perfect home design to your specifications and needs.
REQUEST FREE ESTIMATE
Use left/right arrows to navigate the slideshow or swipe left/right if using a mobile device