A Guide to Choosing the Right Aluminum Handrail Design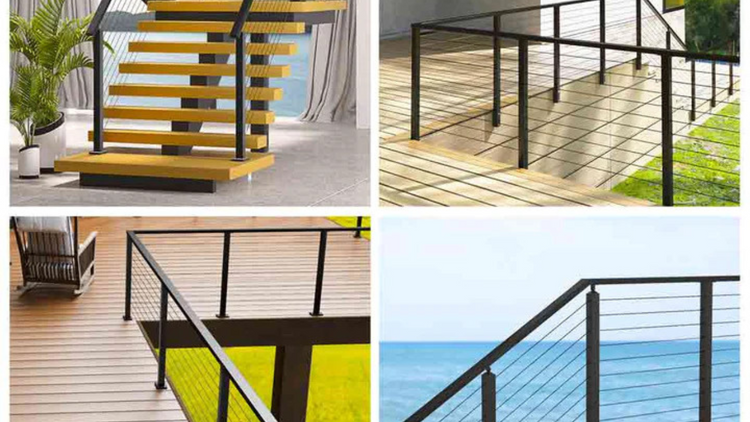 When it comes to home improvement, choosing the right handrail design for your staircase or outdoor space can make a significant impact on both aesthetics and safety. With a wide variety of aluminum handrail designs available on the market, it can be overwhelming to choose the perfect one that suits your needs and style.
The material you choose can affect the overall look and feel of your railing, as well as its durability and maintenance requirements. For this reason, aluminum handrails have become a popular choice among homeowners and businesses due to their versatility, durability, and ease of maintenance. They can be customized to fit your specific needs and preferences, whether you are looking for a modern, minimalist design or a more ornate traditional look.
This guide aims at providing you with useful tips and information that will help you make an informed decision when selecting the right aluminum handrail design for your home or business. Whether you are looking for a sleek modern horizontal aluminum railing system or a more decorative aluminum railing system, this guide will help you navigate the best options and select the perfect handrail for your needs. So let's get started!
Why Aluminum Railing Systems?
For those seeking an uncomplicated and economical railing solution for their cable railing, then aluminum railing is an excellent choice. In comparison to other railing types, aluminum railing styles possess numerous advantages that make them a simple choice.


Requires Minimal Maintenance: Due to their superior durability, replacements and repairs are uncommon. Additionally, they do not necessitate repainting or re-staining. By simply cleaning them with a cloth once per year, they can maintain their stunning appearance for decades.
Sturdy and safe: As aluminum is resistant to rust and decay, it guarantees that your railings will maintain their structural stability. Additionally, they remain unaffected by harsh weather and temperature fluctuations, providing the confidence that your aluminum railing systems will remain secure.
Aesthetically pleasing: At Muzata Railing, we offer many different styles allowing homeowners to choose from dozens of options. Powder-coating enables railings to be painted in a range of colors and finishes, be it old-fashioned or modern aesthetics. These railings possess the same beauty as traditional metal works but come at a fraction of the cost. Finding a style that perfectly suits your home or business is a breeze.
Different Types of Aluminum Handrail Designs
There are several different types of aluminum handrails, each with its own unique features and benefits. Here are some of the most common types:
Horizontal Aluminum Railing Systems: These are the most basic type of aluminum handrails, and are typically used for stairs, ramps, and balconies. They are simple, providing a basic level of support and safety. It is essential to take into account the height of your porch and the design of your home when selecting a railing for your porch. This is to ensure that the railing not only provides safety but also complements the style of your house.
Curved aluminum handrails: These are similar to straight aluminum handrails, but are designed to follow the curve of a staircase or other architectural feature. They provide a more elegant and streamlined look, while still providing the necessary support.
Wall-mounted aluminum handrails: These are mounted directly to the wall, providing support and stability for people walking along a hallway or other narrow spaces. They are often used in commercial buildings and hospitals, where there is a high volume of foot traffic.
Post-mounted aluminum handrails: These are mounted on posts or pillars, and are often used for outdoor spaces such as decks and patios. They provide a sturdy and durable option for those who need support while walking up or down a flight of stairs.
Cable aluminum handrails: These are modern and sleek options that feature stainless steel cables stretched between aluminum posts. They are a popular choice for outdoor spaces such as decks and balconies, as they offer an unobstructed view of the surrounding area. The cables are typically tensioned using specialized hardware, and the posts can be mounted to a variety of surfaces using screws or other fasteners.
Glass aluminum handrails: These are one of the other modern options that feature tempered glass panels held in place by aluminum frames. These also provide an unobstructed view, while still providing a secure and stable handrail.
Decorative Aluminum Railing System
These are made from aluminum that is designed to enhance the aesthetic appeal of your outdoor space. These railing systems can be used in a variety of applications, including balconies, staircases, and decks.
One of the benefits of choosing aluminum railing systems is that they are highly customizable, as they come in a variety of shapes, sizes, and colors, allowing you to choose a design that best complements your space. Another benefit of decorative aluminum railing systems is that they are relatively easy to install with stair railing kits. They can be attached to a variety of surfaces using screws, bolts, or other fasteners, depending on the specific design of the system.
Other Factors to Consider
When choosing an aluminum handrail design, there are several factors to consider such as:
Design of the space: From sleek, modern to traditional, choose a handrail design that complements your overall style and aesthetics is your way to go. Whether you are looking for black aluminum handrail, walnut wood grain, or a red oak wood, these are available in different shapes like flats or round. Our aluminum handrails are finished in a variety of colors and finishes, such as the powder coating of your choice that is durable enough to withstand outdoor exposure.
Cost: The cost of aluminum handrails can vary widely depending on the design, materials, and installation requirements. All you need to do is determine your budget and choose a handrail design that fits within it.
Maintenance requirements: Consider the maintenance requirements of the handrail design you are looking for your space. Some designs may require more frequent cleaning or maintenance than others.
Safety and building code compliance: What's most important is to ensure that the handrail design you choose meets local building codes and safety standards, particularly if the handrail will be installed in a public space or in a commercial building.
It is important to consider factors such as the spacing between the posts, and the thickness and material of the cables used. It is also important to choose a reputable brand with a track record of quality and reliability and look for sustainable materials that offer protection against defects and damage.
By considering these features and doing your research, you can choose an aluminum handrail design that meets your specific needs and provides a safe and functional addition to your space.
Not Sure Where to Start? We are here to help you!
When you need an expert cable railing manufacturer who can help you select a new railing and browse railing accessories and tool kits, then Muzata Railing is here for you. Muzata Railing prioritizes customer satisfaction and environmental sustainability. Offering aluminum handrails that are recyclable is a responsible approach that benefits both customers and the environment. Aluminum is a highly recyclable material, meaning that it can be melted down and repurposed into new products, reducing the need for new materials to be mined and processed.
By choosing an aluminum handrail design that is recyclable, homeowners can feel good about their purchase knowing that they are making a sustainable choice. They can also avoid contributing to the waste stream and landfill space by disposing of their handrails responsibly at the end of their useful life. This approach aligns with the principles of the circular economy, which emphasizes the importance of reducing waste and keeping materials in use for as long as possible.