Collection:
Wire ropes
21 products
Durable Stainless Steel Cable Wire Rope
Stainless steel wire ropes are the finest choice for maritime applications because they have stronger corrosion resistance to saltwater than other ropes. Meanwhile, other wire ropes' bright appearance will fade with time, whereas stainless steel wire rope will remain bright and modern for years. As a result, they are commonly utilized in modern display and architectural applications, such as railings, architectural cables, cable balustrades, handrails, and so on.
Stainless steel wire rope is usually constructed of 304 or 316 stainless steel. Here's a quick rundown on why stainless steel wire rope makes the best choice.
The 304 material is magnetic and has good corrosion resistance and strength. It will, however, corrode to some amount with time, making it unsuitable for marine or culinary applications.

The 316 materials are the most corrosive-resistant and are commonly utilized in high-corrosion settings and regions where salt spray is common. However, 316 stainless steel has around 10% less strength than 304 stainless steel.
Stainless Steel Cable Wire Rope: The Perfect Rope Solution for Outdoors and Indoor Railing
One product has multiple uses: It is beneficial to add stainless steel cable wire at your place as it would be the best way to get your hands on a reliable product. Now with our steel cable wire ropes, you do not have to worry about corrosion and the weather conditions of your area.
Cost-effective Solution: Stainless steel wire rope manufacturers frequently recommend it above other cable construction materials. But what's noteworthy about stainless steel stranded wire is that its low maintenance, longevity, availability, and ease of use and installation make it more affordable than more expensive alternatives like tungsten. As a result, stainless steel's mechanical malleability, as well as its longevity, its widespread availability, makes it excellent for a wide range of applications.

Another advantage of stainless steel wire is that it is simple to work with when compared to other materials. It is quite easy to form, especially in the small-diameter wires that run through the cable. Furthermore, when stranded, stainless steel mechanical cable is simple to lay into the desired shape.
Muzata Railing's stainless steel cable wire rope for cable deck railing, outdoor stair railings, front porch railing, and string light cable hanging.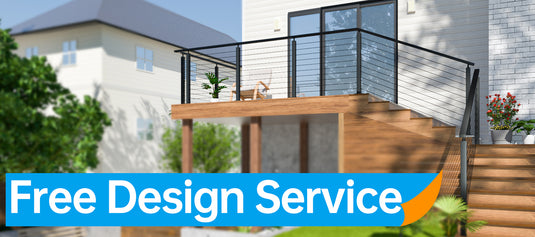 Free Design Saves Time & Money
At Muzata, we are more than just a manufacturer; Our professional design team provides personalized solutions for product selection, railing design, and budget estimation, tailoring the perfect home design to your specifications and needs.
REQUEST FREE ESTIMATE
Use left/right arrows to navigate the slideshow or swipe left/right if using a mobile device