Collection:
Hydraulic crimpers
9 products
High-Quality Hydraulic Crimping Tools
Looking for hydraulic tools for your cable fixing needs has never been easier. With our quality products, you do not need to invest your hours in installing or revamping your cable railing fittings. What is holding you back? Avail the jaw-dropping deals with Muzata Railing and get the best hydraulic crimping tools.
Cable Railing Fixing Made Easy
We offer custom-designed tools for stainless steel. This hydraulic hand crimper is custom-made for stainless steel and is ideal for swaging stainless steel cable railing and boat rigging connectors. Most hydraulic crimpers on the market are just for aluminum and copper, just in case you didn't know. When used to crimp stainless steel, they are easily snapped.
High-Quality Material: The cable swaging tool is made of high-quality materials. Durable for long-term use.
Easy Operation: With our hydraulic crimping tool, you can put use to your DIY videos and bring all your creative side to life.
Budget-Friendly Products: We ensure to offer high-quality products at unparalleled prices.
Variety: We ensure to bridge the gap between our clients' desires and the product received.
Experience: Our pool of experience in the domain allows us to offer tools that suit your needs.
Design: The ergonomic design of our tools makes it easy for you to handle the tool and work effortlessly.
Muzata Railing: The Top Choice for Hydraulic Tools
Cable rail crimping tools ranging from simple hand-operated crimp tools to sophisticated electrically powered hydraulic types and battery-operated tools, cover the entire size range and type of conductors currently manufactured. Tools are available for use as hobby tools, professional tools, and others for industrial use.
Our Hydraulic hand swager crimper is custom-designed with high-quality steel materials for extreme durability, strength, and long-term performance. The Black Oxide Crimp Head and Dies are resistant to chipping and flaking. The Crimping Head Frame is forged rather than cast, ensuring consistent performance.
Crimping and connecting aluminum/copper wires/cables with the cable lug crimping tool. Ideal for wire rope assembly in marine and architectural applications (cable railings, decking, balustrade, stairs, boat riggings).
A safety valve is included with this cable crimping tool. When the pressure reaches a certain limit, it will automatically release to prevent overpressure. The practical design enables you to install various types of wire railings without the need for costly professional assistance.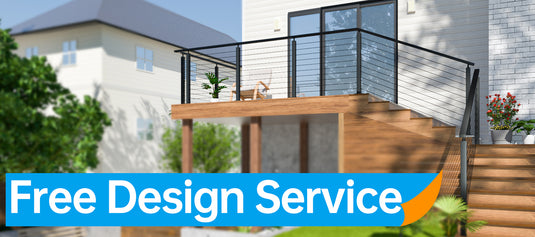 Free Design Saves Time & Money
At Muzata, we are more than just a manufacturer; Our professional design team provides personalized solutions for product selection, railing design, and budget estimation, tailoring the perfect home design to your specifications and needs.
REQUEST FREE ESTIMATE
Use left/right arrows to navigate the slideshow or swipe left/right if using a mobile device