Elevate Your Deck with Surface Mount Cable Railing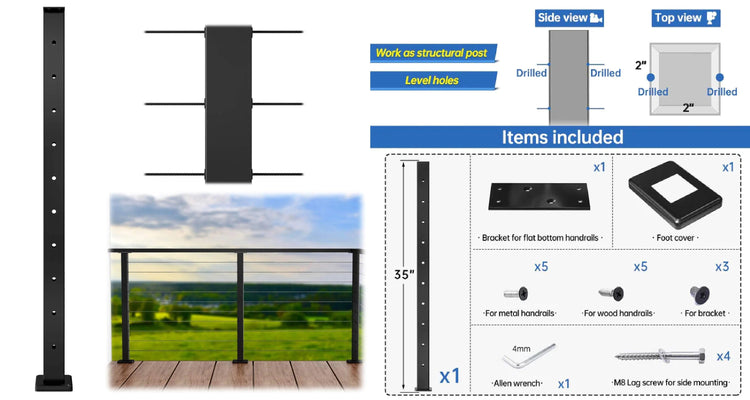 One of the most important things to think about when building or improving your deck is the railing system. Not only is it important for safety and protection, but it also adds to the appearance of your outdoor space.
Surface mount cable railing is a great choice if you want a fence that looks good and lasts a long time. Its sleek, modern look may enhance the look of any balcony while also making it safer. In this article, we'll talk about the benefits and features of surface mount cable fencing, as well as how it can make your deck a beautiful and safe place to hang out outdoors.
What are surface mount cable railings?
Surface mount cable railing is a type of fencing system that can be installed on the outside of a building, like on a deck, balcony, or staircase. It is made up of vertical posts that are firmly mounted to the surface and thin stainless steel cables that are stretched between these posts.
The cables make a barrier while letting you see through the railing without any obstructions. Surface mount cable railing systems are known to create a visually light and transparent appearance. They are commonly used in residential and commercial settings to enhance safety and provide an elegant architectural feature.
Modern Design
At Muzata Railings, Surface Mount cable railing is renowned for its elegant and contemporary appearance. Its minimalist design consists of thin stainless steel cables that are supported by strong posts. This gives you a clear view of everything around you, and the modern aesthetic complements various architectural styles, making it a versatile choice for any deck.
The thin profile of the cables and surface mount cable railing posts makes sure that they don't take over the design of your balcony. Whether your terrace has a beautiful view or is a cozy place to relax, surface mount cable railing posts and components that come with it will blend in with every aspect of the design and make it look even better.
Durable and Weather-Resistant
When considering outdoor installations, durability is essential. This railing is designed to withstand all kinds of weather without compromising its structural integrity. It is made of high-quality materials like stainless steel, which protects it from rust, corrosion, and fading.
This feature guarantees that the fence system remains intact and operates efficiently for a long time. The stainless steel cables used in the fencing are resilient and malleable, making them resistant to damage from environmental factors.
This flexibility proves particularly advantageous in regions prone to high wind or seismic activity. Also, stainless steel is simple to maintain, so it only needs a small amount of care to keep its clean look. Consequently, this cable railing provides a long-lasting and weather-resistant solution, capable of enduring the elements without compromising its functionality or aesthetics.
Unobstructed Views
One of the best things about surface-mounted wire railing from Muzata Rallings is that it doesn't block your view. This cable fencing is an alternative to standard fencing systems that use thick balusters or pickets that block your view and make it hard to see from your deck. With its thin cables and simple surface mount cable railing posts, this type of fence is kept from your viewpoint so that you can enjoy the beauty of your surroundings to the fullest.
Whether you have a wide view of beautiful mountains, a calm lake, or a lively garden, the railing will make your terrace a relaxing place to rest and enjoy the view. It makes for a great place to have parties, get together with friends, or enjoy your morning coffee while taking in the beauty of nature all around you.
With surface mount cable railing, you can embrace the unobstructed views and truly enhance your outdoor experience, seamlessly merging the tranquility of nature with the comfort and elegance of your deck.
Safety and Security
Surface mount cable fence seems wonderful, but its main purpose is to keep your deck safe and secure. Strong stainless steel cables have a high tensile strength, so the railing system can handle a lot of force and keep accidents from happening.
This is especially important when you think about the safety of your children or pets, as the strong structure will give you peace of mind. By combining the tautness of the cables with the secure anchoring of the surface mount cable railing posts, a dependable barrier that adheres to safety standards is established.
Also, the small spaces between the cables are a key part of making sure that small items don't get through, which adds another layer of security. With a surface mount cable fence, you can enjoy your outdoor space to the fullest while putting safety first.
Easy Installation and Customization
Surface mount cable railing posts and components accompanying them are also known for their ease of installation and customization. The fencing system was made to make installation easier for both pros and people who like to do things themselves.
By providing pre-drilled surface mount cable railing posts, the system eliminates any complexities, ensuring a straightforward installation. This makes it a great and economical approach to renovating a deck.
Furthermore, the surface mount application eliminates the need for intricate structural modifications, saving both time and money. In addition to being easy to install, surface mount cable fences give you a lot of ways to change it to fit your personal tastes and balcony design. You have the freedom to select the appropriate height that meets your specific requirements, ensuring the railing fits perfectly.
Low Maintenance
Surface mount cable railing posts and components included with it is also a good choice because it doesn't need much upkeep. These cable railings are made of stainless steel, which requires very little maintenance compared to traditional fencing systems that need to be painted or stained regularly.
Because the material is so resistant to rust and fading, the fencing doesn't need to be painted or stained very often. To keep your surface-mounted wire railing looking great, you only need to clean it occasionally with mild soap and water.
This easy maintenance practice gets rid of any dirt or debris that has built up and keeps the fencing's original shine and finish. Surface mount cable railing demands very little care, so you can spend more time enjoying your deck and significantly less time keeping it in good shape.
Conclusion
Surface mount cable railing offers a secure, stylish, and low-maintenance solution to enhance your balcony. Its modern design, durability, unobstructed views, and easy installation make it a popular choice among homeowners who want to improve their outdoor living space.
Whether you have a modern terrace with a view of the city skyline or a rustic retreat in the middle of the woods, surface mount cable fences will add a touch of style and make sure your family and guests are safe.
Putting money into this kind of cable fencing system not only adds value to your home but also lets you make a deck that fits your style and makes it more enjoyable to spend time outside. With its combination of security, aesthetics, and practicality, surface mount cable fencing is the perfect choice for those seeking a stylish and reliable railing solution for their deck.