Collection:
Surface mounted 36"
28 products
Surface Mount Cable Railing Posts
If enjoying the picturesque view from your deck seemed like a far-fetched idea. We have got an amazing option for you -- surface mount cable railing posts. Switch to the perfect balance between view and safety today.
Posts Fit for Your Needs
Our posts are Ideal for installing an invisible railing system on your deck, stair, porch, and balcony. Cable rail posts made expressly for use with our cable railing systems can be found here. Powder-coated and stainless steel cable railing posts are made from the highest quality low carbon and stainless steel to fulfill your design needs.
A flat-top clean design is available, as well as a swivel mounting bracket (universal top) that attaches to the top of the post and allows you the most freedom. The posts and handrails are proportionately constructed to match each other and give you the proper architectural appearance.
Quality Surface Mount Cable Railing Posts
Waterproof Cable Railing Posts
The post is composed of T304 stainless steel, which is rust-resistant and ideal for outdoor use. Weather resistance and corrosion resistance are excellent. Stainless steel is used for all of the attachments. This post is not recommended for use near seawater or in humid environments.
Appearance
The classic black powder-coated surface provides an elegant look and is also stain-resistant. The classic brushed surface has an attractive appearance and is stain-resistant.
An Array of Options
Blade posts are appropriate for use as intermediate posts since they do not hinder your view. Residential height - 36" posts are for residential projects to create a better balance between view and safety.
We will make certain that the products are created according to your specifications. For years, we've specialized in providing customer-focused railings. We have a reputation for providing excellent service to our customers. You no longer have to go from store to store looking for the ideal railing for your property.
Simply scroll down to your options and order a high-quality stainless steel handrail from the convenience of your own home. Hurry and add the one that best suits your needs to your cart. Don't miss out on this once-in-a-lifetime opportunity to get your hands on long-lasting, stylishly designed, personalized, and corrosion-resistant handrails at unbeatable pricing.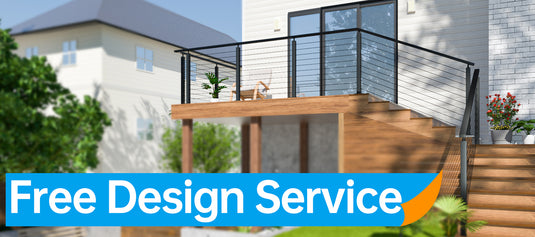 Free Design Saves Time & Money
At Muzata, we are more than just a manufacturer; we also have a professional design team that can tailor the perfect design for your home according to your specifications and needs.
REQUEST FREE ESTIMATE
Use left/right arrows to navigate the slideshow or swipe left/right if using a mobile device