Elevate Your Home's Look with Stylish Cable Deck Railing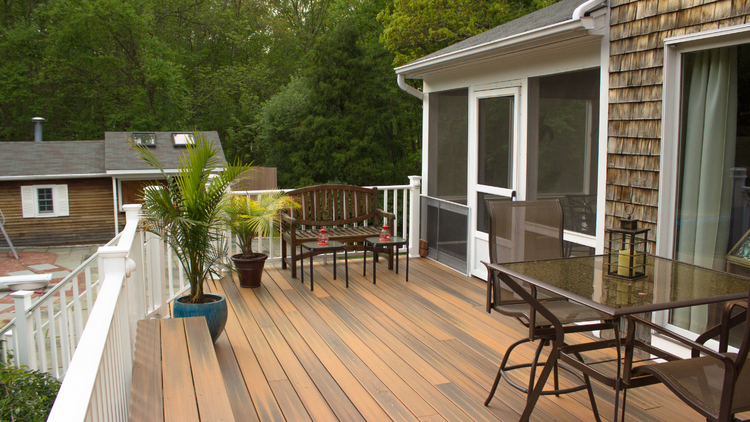 People often forget about the deck when they want to make their home look better from the outside. But a well-thought-out and stylish terrace can make a big difference in how your home looks and feels as a whole.
One thing that stands out as making a big difference is the choice of railing. Cable deck railing has become very popular in recent years because of how sleek and modern it looks. In this blog post, we'll talk about the many benefits and design options of these railings and show how it can turn your home into a beautiful oasis.
What are Cable Deck Railings?
A cable deck railing is a type of railing system that uses stainless steel cables as the main part for safety and support. It is made to provide a safety barrier around the edge of a balcony. This keeps people from falling off by mistake and keeps the view clear and unobstructed.
The stainless steel cables are tightened and attached to posts or other structural elements to make a grid-like design that makes the railing look more modern and simple. Wire deck railings are popular among homeowners who want to create a stylish outdoor area because they look trendy and elegant. They offer the perfect balance between utility and style, keeping people safe while still letting in beautiful views.
The Appeal of Wire deck railing
The cable deck railing is appealing because it doesn't block your view of the surroundings. This gives your terrace a feeling of space and makes it look better overall. Whether you have a beautiful yard, a breathtaking view of the ocean, or a busy cityscape, cable railings let you fully enjoy and immerse yourself in these beautiful views while keeping you safe and looking good.
Cable railings are a popular choice for homeowners who want to improve the look and functionality of their balconies. Their sleek and simple design makes them a seamless link between your outdoor living space and the environment around it. With the help of the right cable deck railing ideas, you can take your outdoor experience to a whole new level. You'll be able to enjoy the beauty of your surroundings without any visual obstructions, and safety, style, and a sense of openness will all come together in a seamless way.
Versatility in Design
Cable deck railings give you a lot of design options because they can be seamlessly incorporated with wood, metal, composite, or any other material. Because of this, homeowners can make their terraces fit their own style by picking the right combination of materials.
Cable railings are easy to change to fit any style, whether you're going for a charming rustic look, an edgy industrial look, or a sleek modern look. The fact that you can mix and match materials with cable railings means that your balcony will be a true mirror of your personal taste and make a stunning visual impact.
Easy Installation
Installing cable deck railing with wood posts or without it is easy and doesn't take much time, so many people choose to do it when they want to improve their outdoor areas. Getting a clean and polished look for your outdoor space is easy, whether you hire a professional contractor or do it yourself by following the instructions provided by the manufacturer. You can easily add cable railings to your balcony because the installation process is easy.
This saves you time and effort. By following the instructions and using the right tools, you can have a smooth installation that will change the way your deck looks. Because cable fences are easy to put up, you can quickly create a stylish and modern look that will make your outdoor area look better as a whole.
Safety
When choosing a terrace railing system, it's important to put safety first. Aesthetics alone shouldn't overshadow this important factor. A cable deck fence does a good job of combining safety and looks by providing a strong and reliable barrier that keeps people from falling and doesn't block their view. Cable deck railings from Muzata Railings are built to last and come with our promise of safety for your loved ones.
The tightly spaced stainless steel wires make a barrier that keeps children and pets safe, so you can enjoy your terrace without worrying about their safety. Whether you're doing something outside or having a party, cable deck railing will give you peace of mind and let you focus on making memories in a safe place.
Installation and Regulations
To ensure the safety of your terrace, installing cable deck railing with wood posts or without it should be done in accordance with local regulations and standards. It's best to hire a professional contractor who specializes in installing wire railings because they know how to deal with all of these requirements.
A skilled contractor will help you with every step of the process, from making sure the railing is properly tightened and spaced to make sure it is safely attached. By letting a professional handle the installation, you can rest easy knowing that your cable deck railing will not only make your outdoor space look better but also meet all safety standards.
Design Ideas for Cable Deck Railing
Modern Minimalism
If you want your home to look sleek and modern, a cable railing system with thin stainless steel wires and elegant metal posts is a great choice. These type of cable deck railing ideas not only makes your terrace feel more open but also gives it a subtle but undeniable sense of elegance.
The combination of thin cables and slim metal posts creates an open and airy atmosphere, perfect for people who like their outdoor spaces to have clean lines and a feeling of uncluttered simplicity.
Natural Elegance
You can improve the look of your balcony and give it a more natural and rustic feel by blending wire railing with wooden posts and handrails with the help of cable deck railing ideas. The warm, earthy colors of the wood and the smooth, cool look of the stainless steel cables make for an interesting contrast that gives off a welcoming, charming vibe.
By carefully combining these elements, you can make a harmonious and natural space where the beauty of nature and the modernity of cable railing cohabit, inviting you and your guests to relax and enjoy the quiet surroundings.
Artistic Expression
Cable deck railing with wood posts presents an exceptional route for showing your artistic side. Take advantage of the chance to add unique patterns or shapes to your railing design, letting your imagination shine and giving your outdoor space a more personal touch.
By adding these artistic touches to your wire terrace railing, you can give it a one-of-a-kind look that shows off your personal style and makes your terrace more interesting. Whether you like complicated geometric patterns, smooth curves, or your own designs, the options are endless. This artistic expression not only makes your terrace look better but it also shows off your personality and leaves a lasting impact on anyone who comes to your outdoor sanctuary.