WHO ARE WE ?
Muzata is a leading home improvement brand that has specialized in developing cable railing systems for over 30 years. We began selling on Amazon in 2016 and continue to export highly competitive products. With strict quality control, a focus on user needs, continuous research and innovation, and patented technologies, our products currently hold over 70% of the market share on Amazon, making us the NO.1 supplier of cable railing kit products.
As a one-stop home improvement solutions provider, Muzata has a mature supply chain, advanced research and development technology, and efficient service. We are committed to providing every customer with high-quality, design-focused, and cost-effective products using technology and innovation. In the future, we will actively and continuously provide professional home improvement solutions that make home renovation easier and better.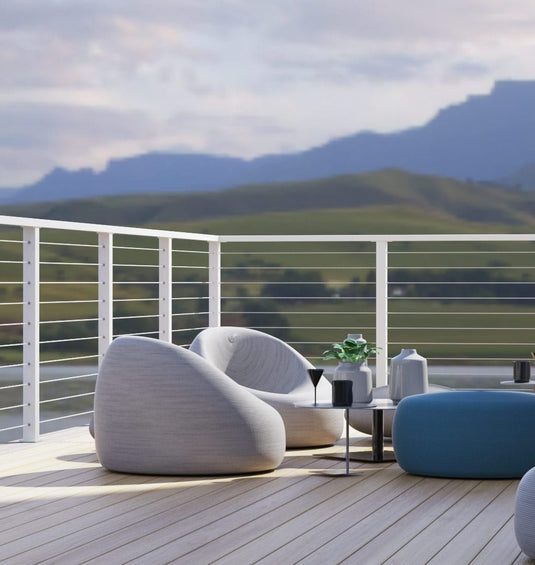 WHAT WE CREATE ?
At Muzata, we provide a one-stop solution for all your home renovation needs. On our platform, you can purchase a comprehensive range of products, including posts, handrails, cable railing kits, wire ropes, tools, accessories, and more, all at once, making the entire process more efficient and convenient for you.
VIEW ALL PRODUCTS
WHY CHOOSE US ?
Free Design Service: At Muzata, we are more than just a manufacturer; we also have a professional design team that can tailor the perfect design for your home according to your specifications and needs. We provide a detailed shopping list or even create a series of product orders directly for you.
Compared to traditional balustrades, cable railing systems are more aesthetically pleasing, simpler, and lighter, with minimal shading to ensure a more open view.
Combined with our LED channel products, you can create a stylish and contemporary railing system to design a better home. Our products are high quality and cost-effective, making them an excellent value.
High quality with the advantage of cost effectiveness.
Easy to install, keeps you and your family safe